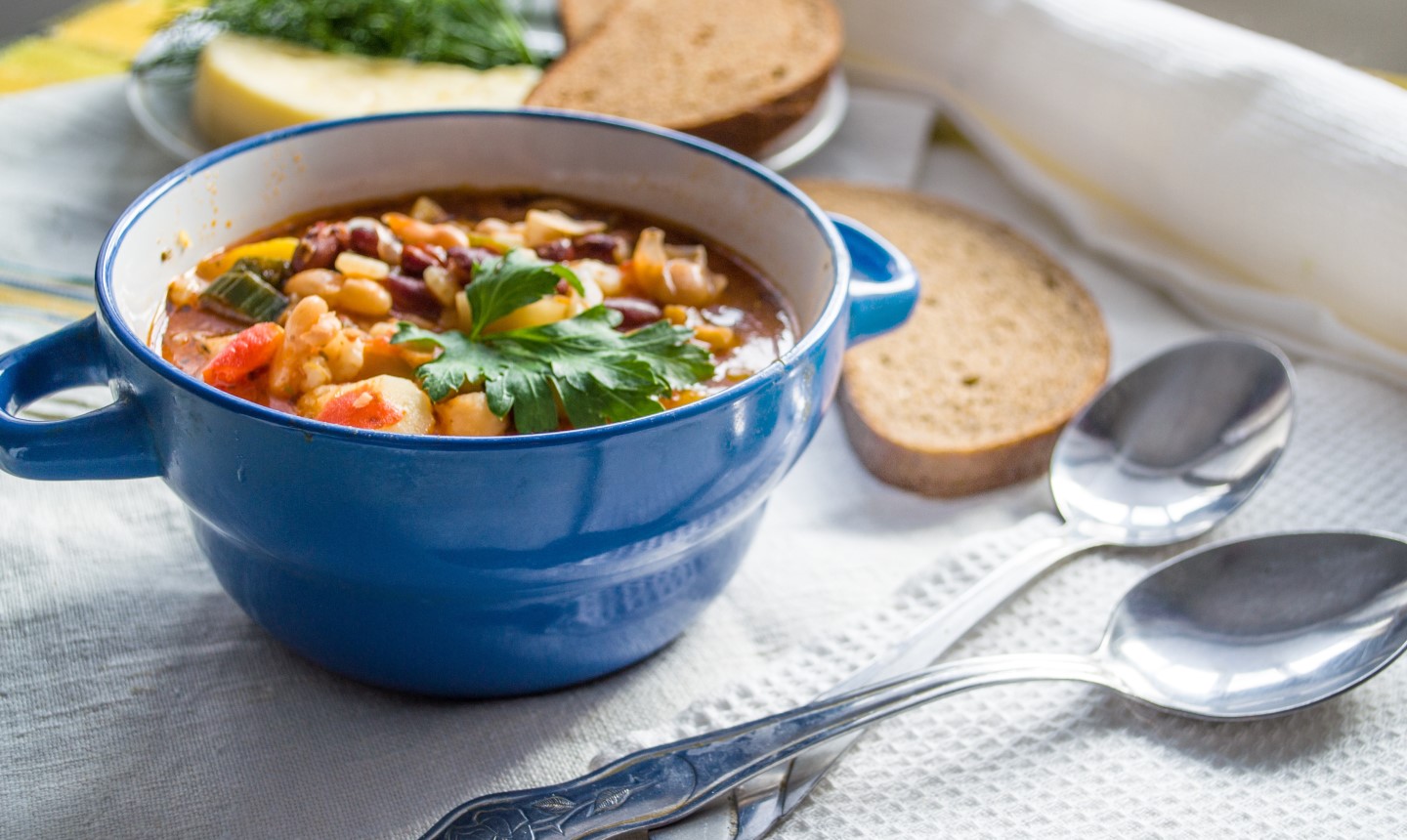 One of the best things about the fall is the flavors. Squash, cranberry, and pumpkin; there's so many great recipes to try with some of these great fall tastes. Here's a list of foods to try that are flavorful but also healthy!
Crockpot Butternut Squash, Chicken, and Quinoa Soup
A crockpot recipe that is fast and easy! This one is hearty and substantial enough that it will fill you up and is also tasty because of the squash flavor. Add together 1 ½ pounds of boneless chicken breasts, 1 cup quinoa, 4 cups small butternut squash, 1 can of kidney beans, 1 can of corn, 1 can petite diced tomatoes, 2 teaspoons minced garlic, 1 packet fajita seasoning mix, and 5 cups chicken broth into the crock pot. Cover and cook for about 3-4 hours or until the squash is tender.
Cranberry Smoothie Bowl
Such a healthy idea for a quick breakfast. Smoothie bowls are great because you can add tons of toppings and make it a little more filling. You'll need to blend 2 cups almond milk, 1 cup frozen cranberries, 1 cup frozen mixed berries, 1 banana, and ½ teaspoon of brown sugar. For toppings you can add dried coconut, chopped almonds, pumpkin seeds, chopped dried cranberries, chia seeds, or granola. Another great thing about smoothie bowls is that you can easily swap out any of the toppings or ingredients for something else you'd rather have.
Strawberry Chocolate Oatmeal
Another easy breakfast recipe, this one is delicious and has just the right amount of chocolate! To make this breakfast, stir together 2 cups of old fashioned rolled oats, ⅓ cup of brown sugar, 1 teaspoon baking powder, 1 teaspoon ground cinnamon, ½ teaspoon salt, 1 ½ cups sliced strawberries, and ½ cup of chocolate chips. Add this to the baking dish and smooth out completely, you can also sprinkle with chocolate chips. Then whisk together 2 cups whole milk, 1 large egg, 3 tablespoons of melted butter, and 2 teaspoons vanilla extract. Pour this mixture evenly over the oat mixture in the baking dish. Bake for 40 minutes, then sprinkle with 2 tablespoons of brown sugar before switching the oven to high broil to allow the oatmeal to toast for 2-3 minutes. You can top with whipped cream, strawberries, chocolate syrup, or toasted walnuts!
Cashew Chicken Lettuce Wraps
This recipe is healthy and so full of flavor that it'll be a new favorite of the family. It can be made in 30 minutes, which is perfect for busy nights. You need to heat 1 tablespoon olive oil over medium heat. Add 1 pound of ground chicken and cook while you chop 2 large carrots and 1 bell pepper. Cook the chicken for about five minutes, then add the carrots and bell peppers. For the sauce, whisk together 1 tablespoon of finely chopped ginger, 3 minced cloves of garlic, zest of 1 orange, 6 tablespoons low sodium soy sauce, 2 tablespoons rice vinegar, 3 tablespoons honey, 2 tablespoons water, and 2 teaspoons cornstarch. Once the chicken is cooked, add 1 cup of lightly salted cashews coarsely chopped and a pinch of red pepper flakes to cook for 1-2 minutes. Then add the sauce mixture and cook for 1-2 minutes or until most of the liquid has been absorbed. Thinly slice 3 green onions and stir them in, then remove from heat. You can place the chicken and sauce mixture in a big bowl and let people assemble their own wraps.
Pumpkin Rice Crispy Treats
There's nothing better than a healthy dessert recipe! The pumpkin puree and spices add some yummy fall flavor to this recipe and makes the normal rice krispy a little more fun. This recipe is so fast and easy you can make it in about ten minutes. All you need to do is add 2 cups rice crispy cereal to a large mixing bowl and set aside, then melt ½ cup peanut butter with ½ cup brown rice syrup and 2 tablespoons of pumpkin puree. Remove from heat and add 3 teaspoons pumpkin pie spice before pouring the mixture into the rice crispy cereal and mixing well. Pour the mixture into a lined pan and press firmly into place. Refrigerate for at least 30 minutes and then your treats are ready!
You can feel good about preparing these delicious dishes because they're healthy for your family as well! Great meals like these are part of what makes fall one of the best seasons!